Suppliers are a critical part of the extended TPI team and work with us every day to meet and exceed the needs of our customers. We count on our suppliers to meet the same high standards for safety, quality, delivery, and cost that we place on ourselves. In addition to upholding TPI's expectations as communicated in our policies and procedures, we actively engage with our suppliers to develop a world-class sustainability program described below.
TPI purchases materials, products, and services to support production across our global manufacturing facilities. The largest category within our global spend is direct raw materials. The primary raw materials are epoxy resins and adhesives, carbon reinforcements, advanced fiberglass fabrics, core materials (balsa wood and foam), coatings, lightning protection systems, and attachment hardware. Our raw material supply chain encompasses over 500 suppliers in more than 25 countries, with a spend of approximately 60% of our net sales including discontinued operations in 2022. We continue to expand our use of local and regional suppliers to ensure a continuous and uninterrupted supply of materials and reduce transportation distance and carbon emissions. During 2022, we audited more than 25 suppliers, approximately 60% of our annual supply spend, on a range of topics important to TPI such as EHS, quality, process control, ESG, and IDEA. We focus our auditing on new suppliers, suppliers that we have not audited in the last three years, or suppliers with operational changes. Of our 2021 raw material spend, 77% of suppliers have obtained ISO 14001 certifications.
Supplier Sustainability Program
One of TPI's top priorities is to improve our ESG opportunities throughout our supply chain. To achieve our ESG goals, we have established a supply chain sustainability program to require and inspire our suppliers to engage with us around sustainability priorities while also increasing transparency.
The program consists of three pillars:
Develop a clear understanding of sustainability objectives and progress
Strengthen and accelerate supplier engagement and sustainability performance
Embed sustainability learning and criteria across our supply chain procedures and processes
In 2022, we established the following goals with our top suppliers across key ESG topic areas, including safety, carbon neutrality, waste management, and IDEA:
Safety: Year-over-year reduction of incident rates with a goal and plan to drive towards zero
Carbon Neutrality: Year-over-year reduction of CO2 emissions with a goal to reach Carbon Neutral by 2030, without use of offsets
Waste Management: Year-over-year reduction of waste to landfill and incineration without energy recovery to reach zero waste by 2040
IDEA: Achieve 25% diversity in leadership and middle management positions inclusive of female and racially and ethnically diverse persons by 2025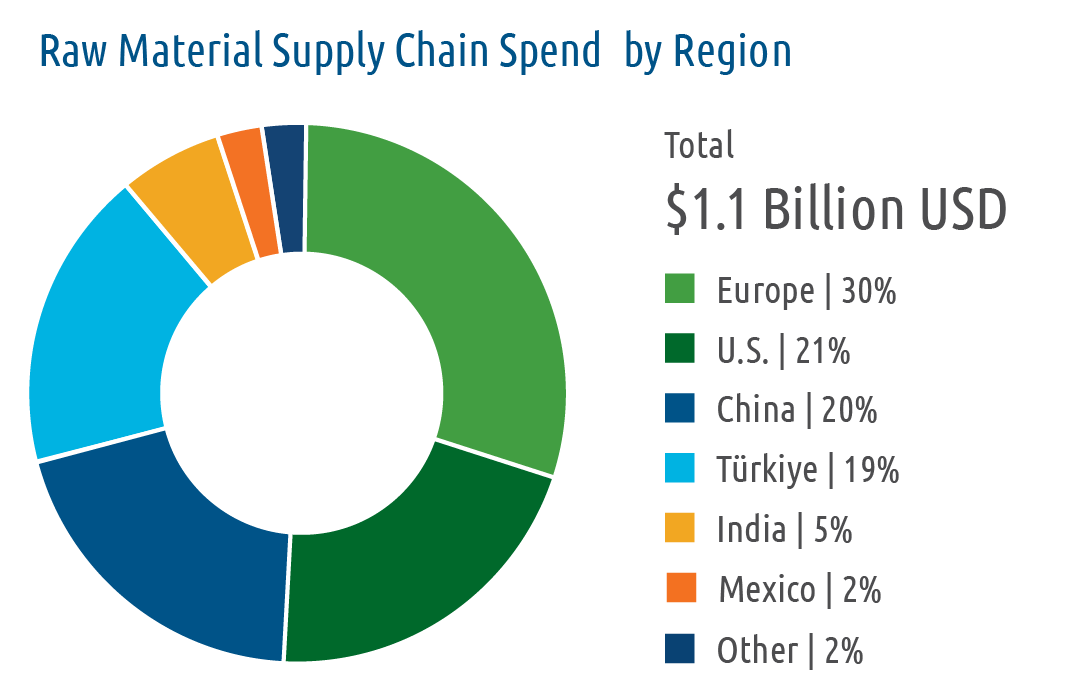 Of our 2022 raw material spend, more than half of our critical direct material suppliers have formally committed to TPI's supplier ESG goals.
TPI continues to further integrate ESG criteria into our sourcing and supplier management processes. During the selection process of key suppliers, we evaluate prospective suppliers' response to questionnaires and compliance with ESG criteria. This includes corporate governance structure, management systems, human rights, and safety policies, in addition to the supplier's ESG vision, commitments and objectives. We have also started to track supplier metrics in support of TPI's supplier ESG goals including GHG emissions (scope 1, 2, and 3), total waste generated, renewable and recyclable material content, safety statistics, and associate diversity.
TPI also considers the environmental impact of the materials we source. For example, we prioritize relationships and opportunities with suppliers that have independent certifications for social and environmental standards, such as Forest Stewardship Council (FSC) certifications for balsa wood or more environmentally friendly material alternatives such as water-based coatings.
Human Rights and Supplier Due Diligence
We have implemented policies and procedures to help us evaluate the integrity of our third-party business partners. These policies address areas such as child labor, corruption, and safety which are incorporated into all TPI purchasing documents and are available on our website. We have documented standards for suppliers and monitor performance throughout the supplier lifecycle. We do this by using an independent vendor assessment tool, conducting audits of our suppliers, and including TPI's expectations for compliance and ethical behavior in our Supplier Code of Conduct and Human Rights Policy.
TPI has a continuous supplier monitoring program, which looks for changes in governmental sanctions lists and unfavorable media related to the suppliers. As part of our onboarding process, all new suppliers go through an initial enhanced screening process, and once approved, become part of the continuous monitoring program. TPI is alerted of high-risk activity, and proactively reviews supplier screenings on a weekly basis. All findings are addressed as quickly as possible to ensure that suppliers meet TPI's expectations.
Additionally, TPI has implemented a third-party due diligence program for anti-bribery/anti-corruption, conflict minerals, and Registration, Evaluation, Authorisation, and Restriction of Chemicals (REACH) reporting to further improve transparency and traceability within the supply chain.