At TPI, safety is our number one Core Value. We strongly believe that all accidents are preventable and that every associate should return at the end of their shift to their families in the same healthy condition in which they arrived to work. To do so, we invest in our people by continually improving our global behavior-based safety program to eliminate unsafe behaviors.
We continue to align safety practices across our global facilities and utilize ISO 45001 Certifications to standardize and strengthen our Environmental, Health, and Safety (EHS) Management Systems across our facilities and ensure risks are being addressed. To ensure continued compliance with our ISO45001 and ISO14001 certifications, our sites receive third party surveillance audits on an annual basis and a full management system audit every three years.
TPI also utilizes a third-party tool to identify and meet EHS compliance requirements in the regions in which we operate. The third-party tool monitors regional regulations and audits our activities to ensure compliance. When gaps are identified, action plans are developed by site EHS teams. In 2022, we completed over 4,000 compliance audits on topics related to Occupational Health, Emergency Preparedness and Response, Safety, Hazardous Materials, Chemicals, Waste, Water, Air Emissions, and other general environmental requirements. 
To ensure that safety behaviors are properly executed, multiple measures are implemented at each facility by our leadership teams and health and safety professionals. These measures include:
behavior based safety observation program
EHS action teams
good-catch safety program
weekly safety walks
daily safety communication
safety education
safety committees
shift safety inspections
COVID-19 response plan
Behavior Based Safety
Our standard global Behavior-Based Safety (BBS) process ensures we provide coaching around at-risk behaviors and reinforce safe behaviors. Our BBS process continues to mature and utilizes a mobile application to capture the data through weekly surveys and enable global trend analysis. The BBS data captured includes the number of observations made by our trained observers and categorizes the observations as safe or unsafe. These observations focus on correct PPE usage, ergonomic postures, equipment handling, and daily blade manufacturing safety procedures. In 2022 our facilities completed more than 23,000 of observations with our average BBS score of 90% safe.
EHS Action Items
This year, each of our manufacturing facilities have also deployed EHS Action Teams. EHS Action Teams are small cross-functional teams of associates performing proactive EHS activities to drive continuous improvement. These teams work on projects relating to ergonomics, risk assessment, job safety analysis, and EHS inspections.
Safety Walks
During weekly safety walks, members of the facility leadership team observe operations to identify unsafe conditions and unsafe behaviors while engaging with associates to verify their EHS knowledge and coaches them on observed behaviors.
Safety Education
Safety communication materials are provided to associates and discussed with leadership daily. Topics include recent safety hazards, issues, and training. Furthermore, associates can remove themselves from any situation they view to be hazardous to their health without fear of retaliation. Corrective action to perceived hazards are implemented as appropriate by TPI.
We further ensure the safety of our associates to support our zero-harm culture through safety education. Safety education is the foundation for our other safety measures. Associates receive regular training on environmental, health and safety related topics. This training includes but is not limited to:
general awareness EHS training
ergonomics training
compliance training
hazard-specific training as required for the job or task
fire hazard and prevention training
hazardous material training
equipment-specific safety training
safety incident and corrective action training
Safety Committees
Each manufacturing facility has its own safety committee where associates participate in the improvement of they facility's safety management, and meetings are typically held monthly. Committee responsibilities include the review of safety incidents, identification of safety hazards, follow-up on safety improvements action plans and more.
Incident Management
While we employ veracious preventative safety measures across our operations, we understand that accidents may happen and have processes in place to investigate and prevent future injuries. If an incident occurs, a root cause is identified, and corrective actions are implemented to address the hazard that led to the incident. All safety information is tracked and reviewed at each facility and with the leadership team. Incidents and corrective actions are then shared across facilities, along with significant good-catches, to ensure that best practices are implemented globally. A good-catch is the identification of a condition or behavior that has the potential to cause harm with timely intervention and corrective action before an incident occurs. In 2022, the number of good-catches submitted was more than 24,000.
Additional Health Services
Access non-occupational medical and healthcare services varies across our facilities. These include on site clinics, referral to outside medical services, and private health insurance. Voluntary health promotions also vary between facilities but include preventative wellness checks, fitness and wellness benefits, healthy eating programs and more.
Safety Performance
We exceeded our goals for Recordable Incident Rate (RIR) and Lost Time Incident Rate (LTIR) in 2022. Our goal was for the RIR and LITR to remain flat or decrease year over year. We reduced our RIR by 17% to 0.19 compared to 0.23 in 2021, and we reduced our LITR by 23% in 2022 to 0.10 compared to 0.13 in 2021. Our 2021 and 2022 RIR and LTIR were significantly below the U.S. Bureau of Labor Statistics industry rates.10
Chemical Management
All TPI facilities have chemical management policies and procedures in accordance with laws and regulations in their respective regions. Chemical management procedures detail the proper handling, storage, and disposal methods for chemical products at the facility. TPI's chemical management programs include maintaining and updating safety data sheet inventories for all chemicals and implementing strict emergency response plans. All chemicals entering and exiting TPI facilities follow labeling requirements in accordance with strict regulations to properly identify chemical properties that pose major hazards including flammability, corrosiveness, and toxicity. For a new chemical to be approved to enter a TPI facility it must follow a chemical approval process which includes an in-depth review by EHS departments.
Management of hazardous chemical waste is also extremely important to TPI since our manufacturing process deals with these substances. At all TPI manufacturing sites, hazardous waste policies and procedures have also been implemented. These procedures include the identification, labeling, disposal, containment, and storage of hazardous wastes. In addition to strategic chemical programs, all employees that may encounter chemical or physical hazards and waste materials are trained on chemical labeling and handling, detecting hazards, and understanding safety data sheets, and emergency procedures. TPI's commitment to associate safety goes beyond training as all our locations follow requirements for Industrial Hygiene by monitoring associate exposures when working with hazardous materials. A majority of our EHS teams utilize third-party organizations that help TPI identify hazards and set up action plans to reduce risks to chemical, noise, dust, and heat exposures.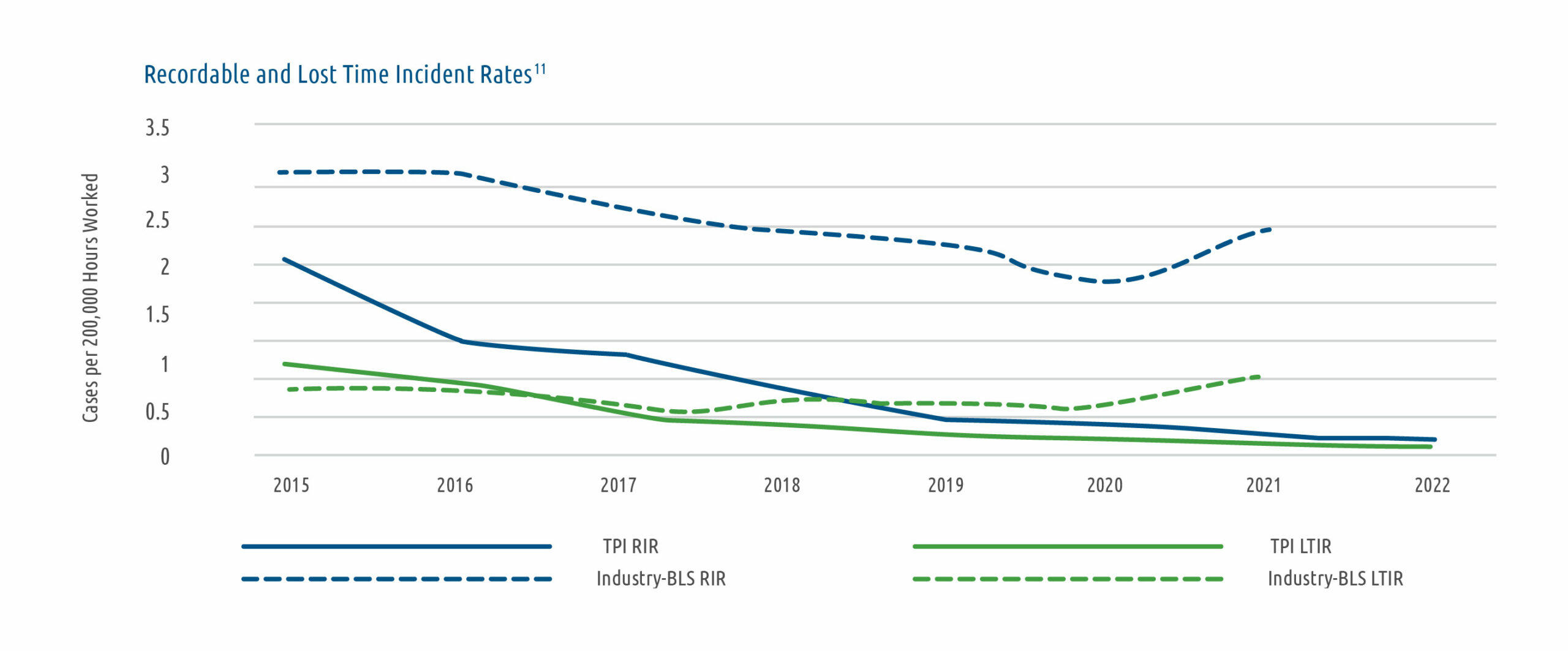 10Number of incidents per 100 associates. Incident Rate (IR) = Number of Incidents X 200,000 / Number of Associate Labor Hours. Injury frequency rates calculate the number of injuries per year for each 1 million hours worked. Recordable incidents are based on OSHA reporting requirements and exclude first-aid injuries. Injury Frequency Rate (IFR) = Number of Injuries X 1,000,000 / Number of Associate Labor Hours. Industry incident rates are according to the U.S. Bureau of Labor Statistics Survey of Occupational Injuries and Illnesses NAICS code 33361.
11 Industry incident rates are according to the U.S. Bureau of Labor Statistics Survey of Occupational Injuries and Illnesses NAICS code 333611